Getting Started With Smart Home
Since meeting this group of professionals, I have never been let down by their work ethics. They deliver on every promise, are very time-sensitive, and they look out for things I didn't even know may be an issue. I will always work with this company because they have my back.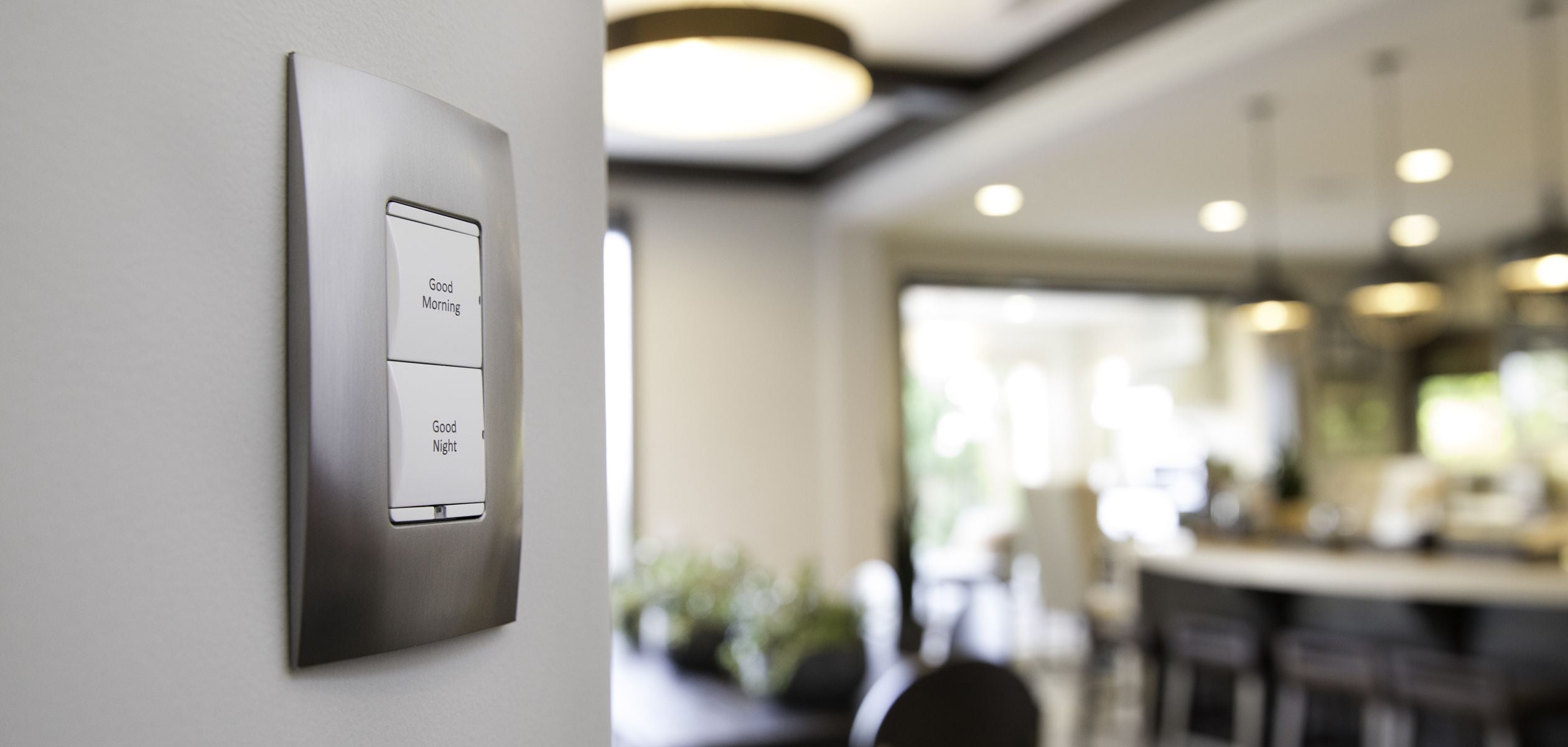 Every Interaction Is Better
Enjoy control like you've never experienced before. An evolved, fluid interface and over a thousand new features and interaction enhancements have been thoughtfully redesigned to simplify your smart home. It's modern, intuitive, and fun to use!

Interaction devices such as the Need touchscreen remote, in-wall or tabletop touchscreens, or the Control4 OS app on your phone provide you with convenient ways to take immediate control.
More Personalized Than Ever Before
OS 3 gives you unmatched personalization and control capabilities that make your smart home uniquely your own. Mark your most frequently used rooms as favorites so you can quickly swipe between them, and every room is customizable to your liking, right down to the wallpaper for each space.
Simplicity At Its Finest
OS 3 is intuitive, providing easy access and control for all devices across your home. See only the lights that are on, music that is currently playing, or glance at the entire home in one place using interfaces and gestures you're familiar with.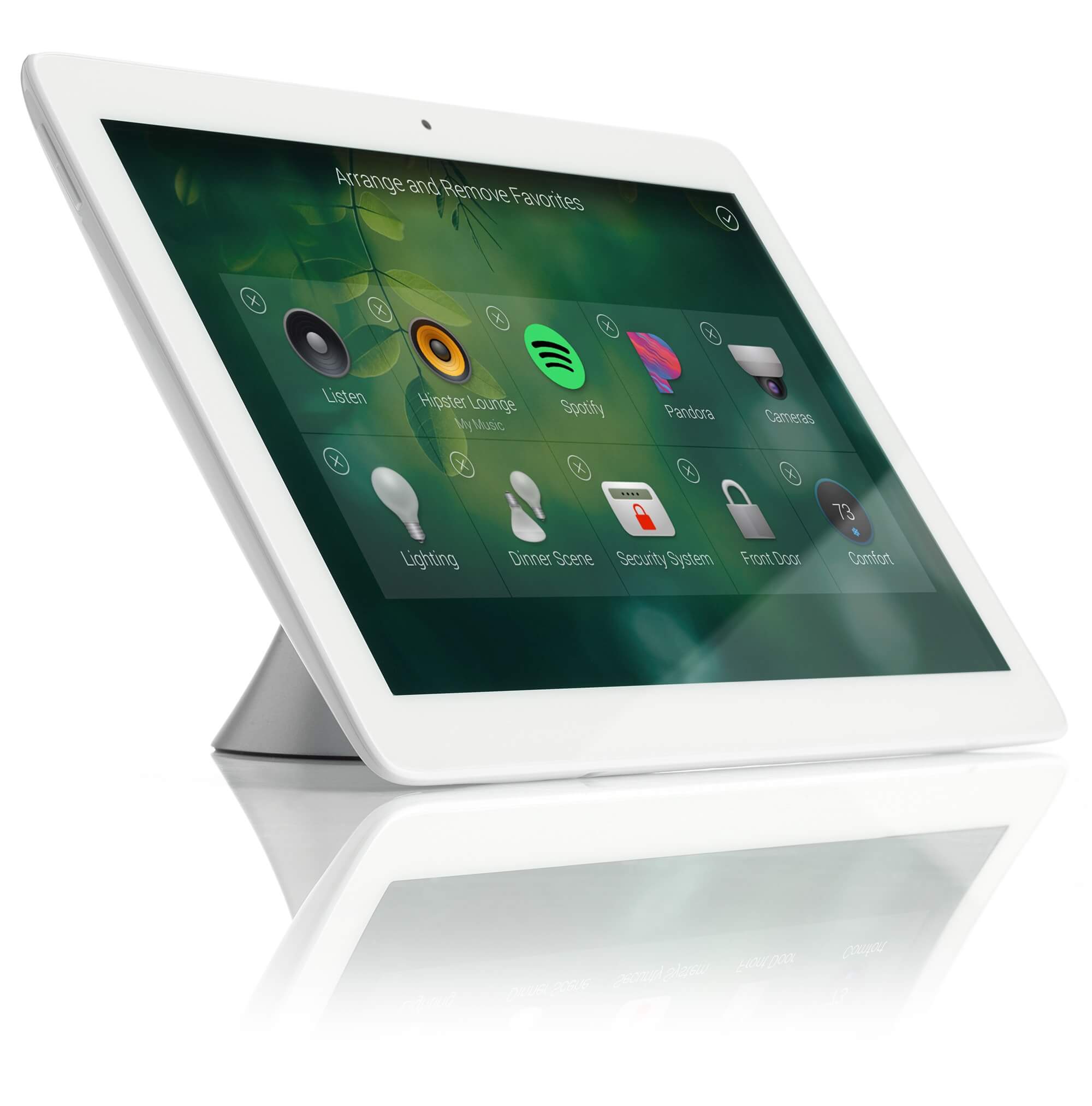 New favorites for your convenience
With all-new Favorites, every smart home is unique. Put your most frequently used icons on the main "dashboard" screen. Anything across your entire home can be added to the top so those icons are front and center on your phone, touchscreen, or Neeo remote when you need them. Fewer touches. Fewer taps.

Just like you're used to on your phone, it's as easy as hold-and-drag to add, arrange, remove, and favorite your most commonly used devices, streaming services, and scenes.
Reimagined entertainment experience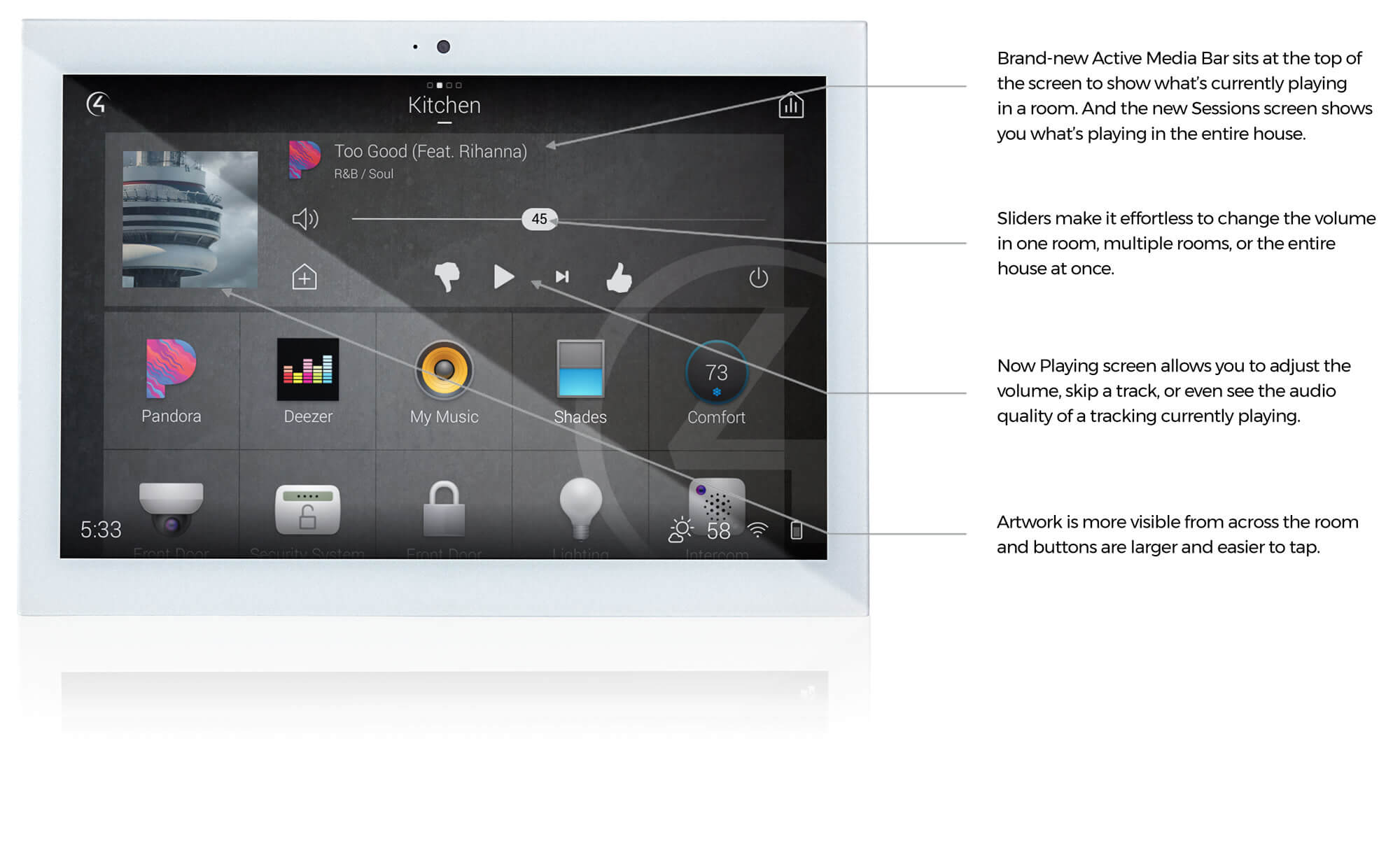 "At-A-Glance" Views of your entire home
Consolidate devices from across the entire house into a single screen, so you can instantly view the status of your security system, smart door locks, shades that are open, or lights throughout the home—and take immediate control.

OS 3 icons visually represent individual states for connected devices, so you can instantly see whether a door is locked, the fan is on, or the garage is open.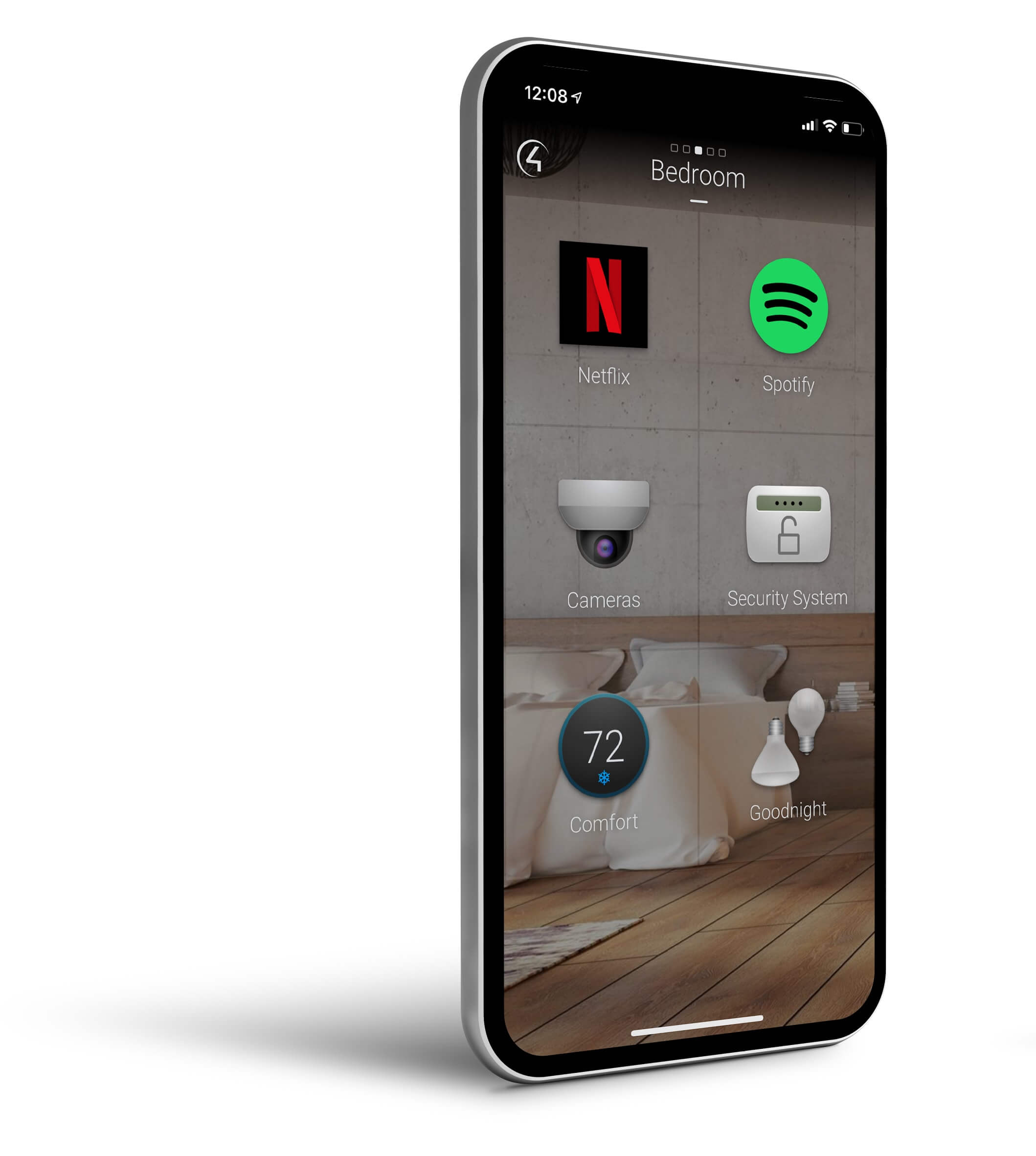 Quick and clear control of it all
You have many rooms in your house, but some that are used more often than the others. Elevate those favorite rooms and quickly swipe between them.

Icons are larger and text is more legible. The Comfort screen provides weather details and allows you to adjust the temperature with a single tap. You also have a clear view of what's playing around the house with the all-new Active Media Bar.

To experience Control4 Smart Home OS 3, talk to your dealer about upgrading your system and download the new OS 3 app today!
PROVIDING YOU THE BEST EXPERIENCE FROM ANY INTERFACE YOU USE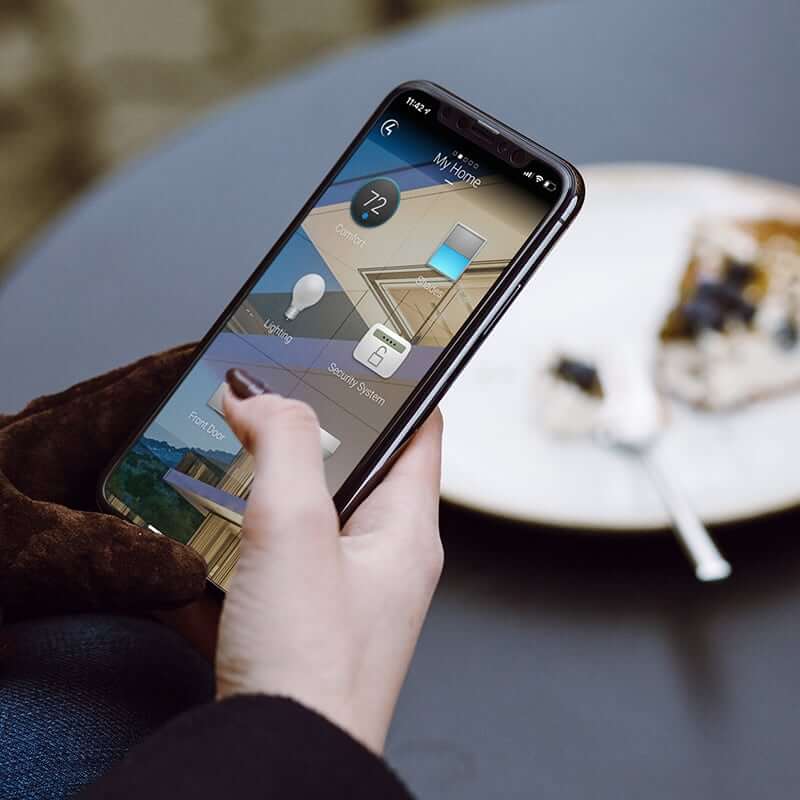 On your mobile device, portrait mode scrolls naturally and is designed to display the correct icons with instant feedback of their current status.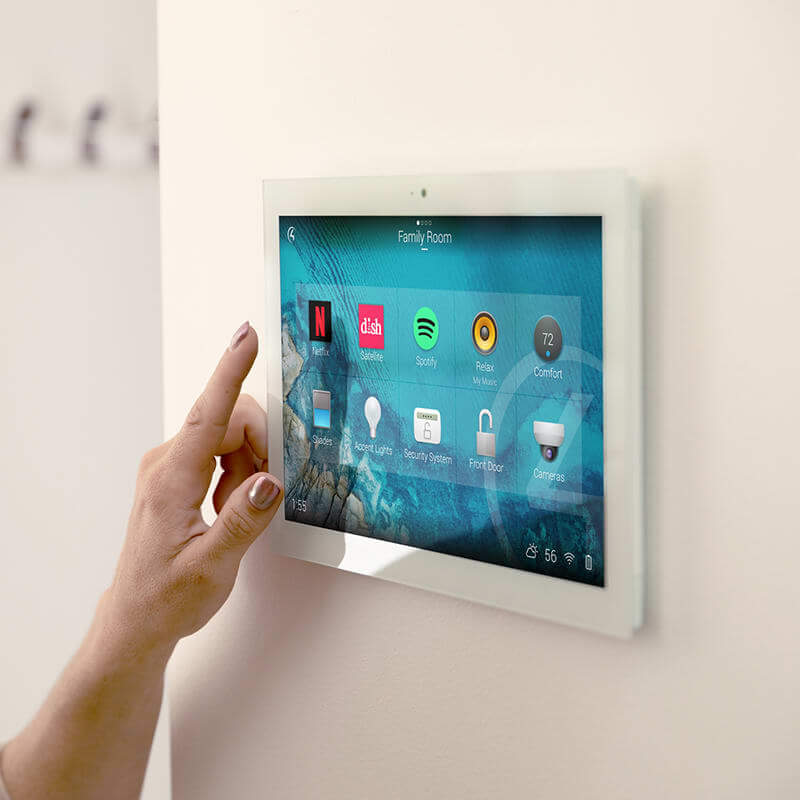 From a Control4 touch screen, the icons are larger and the response time is incredibly fast for immediate control of anything in your smart home.
With your handheld remote, the on-screen display is focused specifically for entertainment so you can easily pull up audio/video entertainment and favorite devices.
Focused entertainment experience
Watching a movie or turning on the news has never been easier with the all-new OS 3 TV on-screen menu. Designed to keep you focused on your entertainment, intuitively controlled with a handheld remote.

Favorites make it fast to get to your most-used lights or scenes, and also quickly start your favorite movie or music.
Simple and fluid navigation
OS 3 is designed to remove complexity from your life. With over 1,000 enhancements—both big and small—OS 3 delivers more usability with one-touch access and control over your entire home.
Get Started With OS3